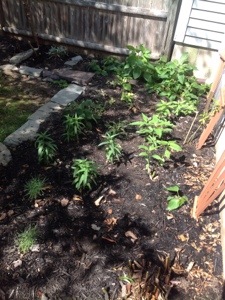 This week I completed installation of a habitat garden in Clifton Park using native plants. Like many gardens in the capital region, adding native plants gives an immediate and noticeable influx of wildlife motion. This property has a forest edge and natural wetland habitat within a half a mile. Butterflies and songbirds are nearby and easily find their way to the pollen, nectar and seed bearing native plants.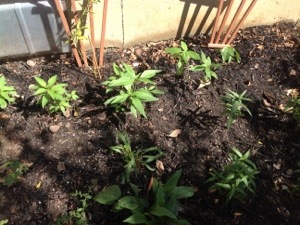 Asclepias incarnata (Swamp Milkweed) was planted which will develop into Monarch butterfly habitat. Joe Pye Weed (Eupatorium purpurea) and Maypop Passionflower (Passiflora incarnata, which is a native plant in Kentucky) were also added. All these plants to attract butterflies and birds form an ecological garden zone that reflects natural habitat and brings nature closer to the home.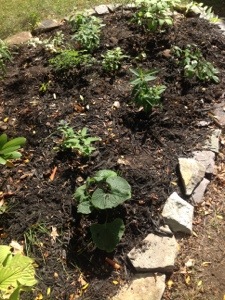 Shade gardening is an aspect of native plant design that is under-utilized and sometimes misunderstood. There are lots of gorgeous woodland native plants and part shade tolerant plants for the Saratoga or Clifton Park garden; these plants will often attract and feed birds and butterflies. Black Cohosh (Cimicifuga racemosa is a stellar example of a lovely shade garden plant.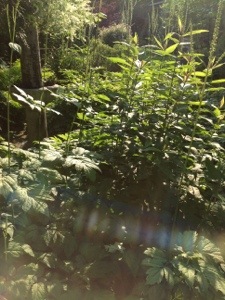 Here is a 30 year old bed with a Black Cohosh colonization from a garden in Round Lake, NY.
And here are photos of the Clifton Park beds before planting. Stay tuned for next year's photos when everything has doubled in size!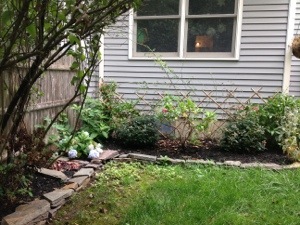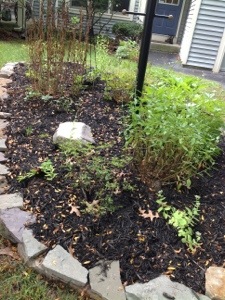 Here is our baby Black Cohosh.
This Hibiscus was already a part of the garden. We planted a Maypop Passionflower next to it and dug it in with our secret organic fertilizer blend. Three days later the Hibiscus broke out in blooms for the first time since the homeowner had it added!