Working Together on Your Landscape Project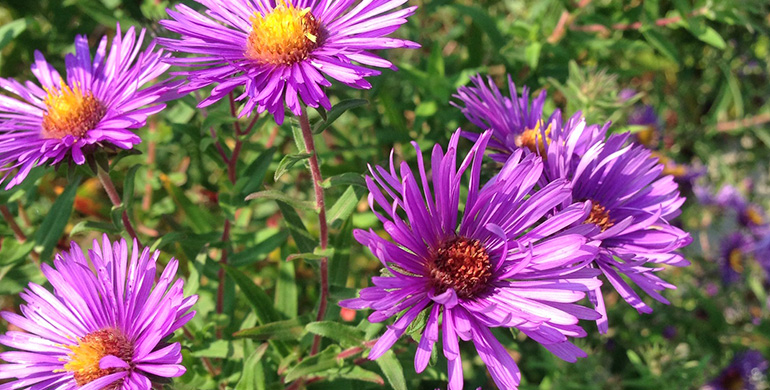 FAQs: working together on your landscape project. Who, what, how, when?
Thank you for the interest in our company!! Working together on your landscape project: how does it happen? Let's put the pieces together.
Q. Who Are Our Clients?
Our landscaping clients are homeowners, business owners, school campus decision makers, leaders of municipalities and public land managers.
We also partner with landscape architects, civil engineers, non-profits and planning boards for large projects.
Q. What Services Do We Offer? 
A. Our clients generally fall into 3 categories.
1. Garden/Landscaping Design/Build or Landscape Renovation Projects. Using 100% native species plants: perennials, trees, shrubs and grasses, we design and install new landscaping. If requested, we can also do maintenance for our design/install clients.
2. We offer a package for DIY planting that includes garden design, delivered native plant material, physical layout and some education for best planting practices.
3. Wholesale Native Plant Purchase. Native plants are hard to find. We can help source the rare plants that you've researched and are ready to buy. This is especially helpful for landscapers who'd like to do more natural landscaping, civil engineers on DOT or similar habitat restoration projects, or the serious, self-educated home gardener. If you're ready to purchase native plants for contact-free pickup or local delivery, join our email list.
Q. Where is Our Service Range?
A. During peak season our service range is limited to Saratoga, Albany and Schenectady Counties. Most of our clients are in Saratoga Springs, Niskayuna and Albany, NY. That includes all areas of Saratoga County, Ballston Spa, Ballston Lake, Niskayuna, Round Lake, Clifton Park, Schuylerville, Saratoga Lake, Malta, Altamont, Burnt Hills and Albany.
Q. When is the Landscaping Season?
Peak season for landscape production in NYS is May through October/November. Mother's Day to Veteran's Day is when most projects get done. We do landscape consultation and planning all year, especially through the winter.
In the off-season we sometimes work on eco-landscaping projects in warmer climates of the Eastern Seaboard. Coastal South Carolina, we love-love-love you!!! (Call us?)
Q. Do you offer free estimates?
A. No. We request a fee of $150 for initial consultation/site evaluation visits. We love meeting new people! We wish we could meet with everyone who reaches out. We put a lot of ourselves out there when we come meet new people. It helps to feel valued in the process of sharing our hard-earned treasure.
How?
Ready to Take the Next Step?
Fill out our customer intake form: Consult Request.
You'll be contacted asap and added to our waitlist.
We meet for a site evaluation/consultation/estimate visit.
An estimate document is generated for you includes a project plan. The plan will include a native plant list custom tailored to your property's unique conditions.