Public Gardens: For Businesses, School Campuses, DOT Restoration Projects, Public Spaces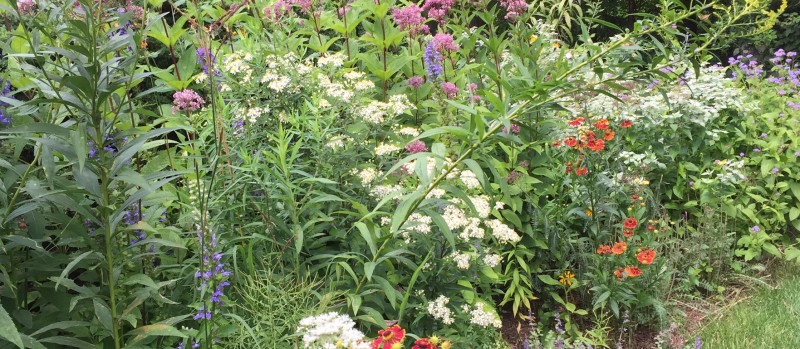 Public Gardens: DOT Habitat Restoration Projects, Nature Preserves, Parks and other Public Access Spaces.
Public spaces are a wonderful fit for the sustainable style and native plant landscaping. Rain gardens, Butterfly Gardens, (including Monarch Waystations), Pollinator Gardens, Native Wildflower Meadowscaping and Living Fences made of wildflowers are all well suited to the public arena. Our friends in Philadelphia at Phyto Studio have been renovating and rewilding the campus of Penn State for a few years. Habitat landscaping should be public access, beauty and nature are human rights. Our happiness quotient improves when we have access to safe, beautiful nature spaces.
Here at Jessecology, we have a dream that the Albany/Saratoga region will one day be filled with traffic circles and roundabouts that are so beautiful people actually want to slow down when they drive through them. With native plant focused landscaping, it's possible. Natural landscaping in public gardens within golf courses and school campuses is a strategy to make the consumers and students feel welcomed and cherished. It's also a beautiful way to invest in our region's future eco-health. Rewilded public gardens create rich vaults of biodiversity and habitat restoration. Naturally landscaped cemeteries are a wonderful way to passively add nature preserves to our ecosystem.
Native plant systems are much lower maintenance than traditional landscaping. They are a great fit in the public garden setting. Once established, native species landscape systems require no extra fertilization. In average conditions natural rainfall satisfies their watering needs. This saves significantly on sprinkler system installations, as they are not needed. Native plants repopulate the ecosystem that was disturbed by bulldozers and new impervious surface additions. This creates new habitat for wildlife, including an increase to ecosystem services for the region, new migration corridors and a larger carrying capacity for our wildlife.