Treat Yourself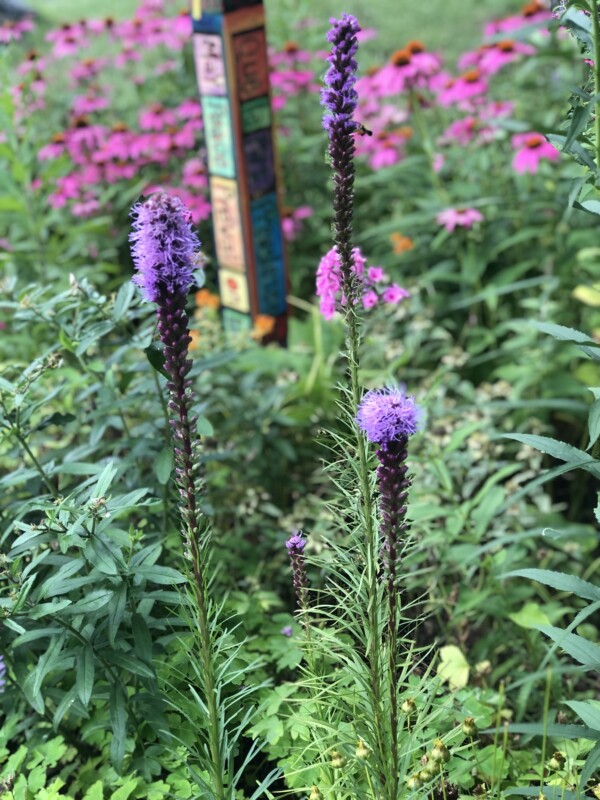 Winter was long. You've undoubtedly been working really hard and growing as a person too. We're super proud of you. Good job! It's so very close to spring and you made it. You're more beautiful and smarter than ever before, too. You deserve to treat yourself to a baby native plant for your window garden.
The purple flower in the photo is a native species called Blazing Star, or Liatris spicata. It is cheerful and bright. The plant has tremendous vigor and grows very rapidly. In fact, you could treat yourself and watch it grow next to your natural kitchen window the same way that folks watch Amaryllis develop. A dormant looking bulb wakes up under your attention. At first slowly but soon quickly the green aerial parts populate vertically before your very eyes. If you'd like to watch a Liatris begin to grow, sprout some natural green and eventually flower right in your window, we'd love to help.
We have a unique offer for a limited time. Between now and Earth Day- April 22, 2023- we have Liatris native plants for sale, on discount. These will grow great and brighten your kitchen, bathroom or other sunny area of your home. If your location is within our landscaping service area (Ballston Spa, Ballston Lake, Delmar, Slingerlands, Saratoga, Albany, Clifton Park, Round Lake, Niskayuna, Albany and Altamont) delivery is included. If you live locally yet beyond our service area (South Glens Falls, Schaghticoke e.g.) we welcome you to come pick up your Liatris native plant at our wildflower farm.