Interpretive Nature Sign Gardens.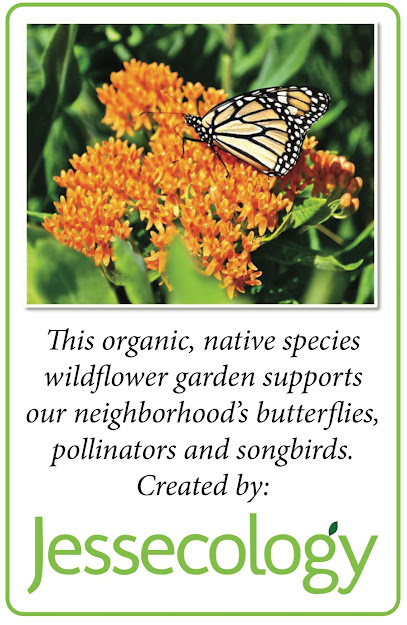 One thing that differentiates a botanical garden or arboretum from an amateur nature lover's garden is signage. Interpretive nature signs in a garden or nature preserve transform a pedestrian stroll into an educational event. When plants are labeled, the people enjoying the nature and gardens can study the plants. Labeling the processes or individual species gives information to everyone. Sharing information this way makes the mystery of nature feel more accessible.
This has traditionally been one of the hallmarks of national parks, nature preserves and state parks. A garden with an interpretive nature sign, or signs becomes something finer than a standard garden. It becomes a private nature preserve that edifies all visitors who arrive with curiosity about nature.
Our company began providing an interpretive nature sign to our design/build clients a few years ago. The sign reads, "This organic, native species wildflower garden supports our neighborhood's butterflies, pollinators and songbirds. Created by: Jessecology." We'd love to create more iterations of educational signage! There's so much information to share in every garden. There's so much to share in every unique ecosystem! Nature preserves can offer more interpretive nature signs when there's support for them to do so. And, so it is for the ecosystem centered landscaping company. If you love this idea and want to support informational signs in your gardens, let us know! We'd love to develop more educational garden signage for native plants and ecology education.
Are you interested in communicating about developing some ecology focused landscaping on your property? We'd love to meet you! Fill out our online client intake form and we'll be in touch soon.