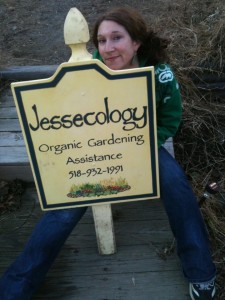 I found a local artist this summer who painted a beautiful sign for me to bring to my gardening locations. It gives a bit more of a sanctioned feel to my work. I set it in a big flower pot filled with boulders, strap on my kneepads, and get right into the given day's project(s).
The artist's name is Crystal Paul. Her website is http://meadowcrafts.com. Email: [email protected]. Phone: (518)222-9704. She had my gardening sign done, affordably and gloriously in two and a half days. I highly recommend doing business with her; and she is multi-talented, her arts skillset reaches far past sign making. (Search for her on http://etsy.com/shop/MeadowCrafts if you don't believe me!)
There's something personal and rewarding about supporting any local business. It's like making a bank deposit in the place where I live, voting to keep my community vibrant. Many times the goods or services are of a higher quality than national or corporate businesses, and supporting local businesses is the best economic sustainability plan I can think of for this country, this community.