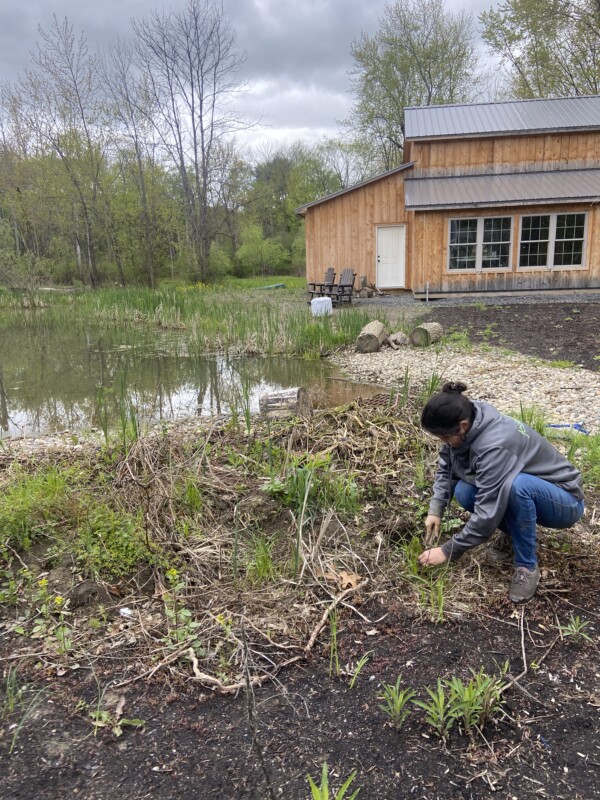 At Jessecology, we've been conscious of the environmental destruction and devastation that invasive species plants can cause for almost 2 decades. And so, we admire and have huge respect for community resources like PRISM, based out of Cornell Cooperative Extension. All things considered, helping educate the public and raising awareness about invasive species is huge.
As the above photo expresses, we have much experience with invasive plant mitigation. Often when clients hire us for a design/build landscaping project, there are some invasive plants onsite. Part of the project then becomes managing these invasives. Removing them is only a part of the management procedure. Dis-incentivizing these problem species' re-growth requires strategic planning and vision.
We joke that the removal of weeds, including invasives, is done by violence. (When glyphosate and other toxic chemical biocides are used in working with the land, calling it violence is no joke.) And yet, even organic methods can seem violent. Ripping stalwart roots deep from the ground is a trauma to the earth. Organic gardeners often try to control weeds with an assault of material like Epsom salt or vinegar. Manipulating the land to exclude invasive plants and other weeds organically is a productive action.
Can land management integrate kindness instead of violence re: invasives?
Yes. No shame in anyone's assault on invasive plants. (As mentioned, the Jessecology team organically assaults invasives frequently!) But as a matter of fact, it is in theory possible to kill invasives with kindness too. Obviously invasive plants are a major environmental problem. In any case, some creativity, innovation and strategic thinking are welcome.