Shade Garden in Clifton Park, NY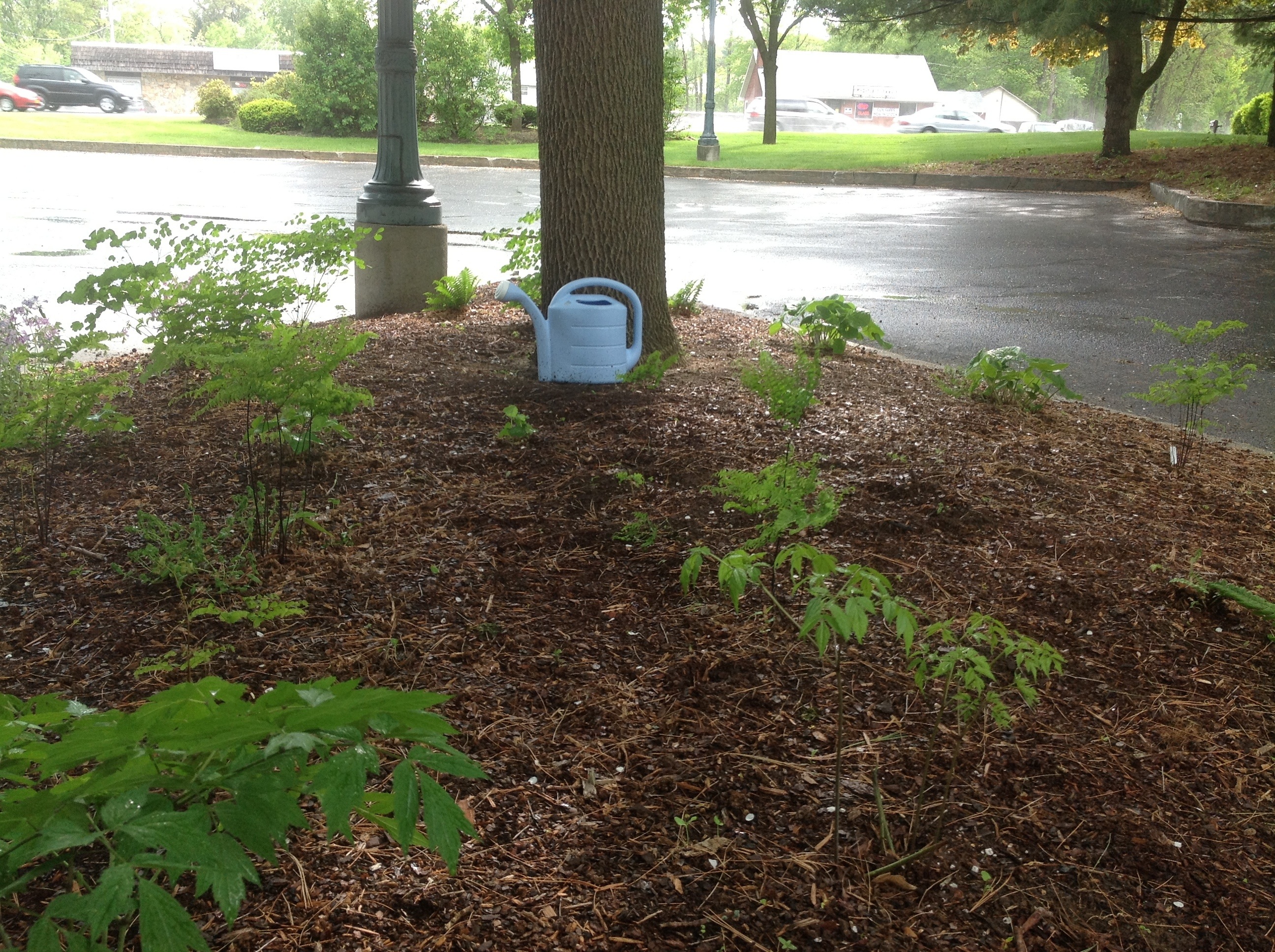 In Clifton Park, NY a legacy shade garden shines. Saratoga County folks (also Albany, Schenectady, Niskayuna folks) are often puzzled by the shady parts of their property. They may want a garden but think non-native Hosta and Astilbe are the only options for a shaded space. Our world's forests, loaded with beautiful natural woodland gardens would beg to differ though. Nature's own shade gardens, or woodland gardens are the literal stuff of fairy tales. Landscaping in shaded areas to create new woodland gardens is a future minded activity. Intentionally landscaping in such a strategic way with native plants cooperates with nature and begins the process of beautiful habitat restoration.
In the summer of 2014 we were contacted by a forward-thinking financial advisor in Clifton Park, NY to renovate her landscaping into something more natural and easier to care for. The area where the garden was planted sits right under a mature Ash tree, creating dry, woodland-like conditions, and so we created a woodland garden habitat design with lots of native plants for Clifton Park. The long, wet winter with tons of snow that didn't melt until April was very kind to the native woodland plants of this southern Saratoga County habitat garden. We chose a list of native plants in Clifton Park that would thrive in the dry woodland setting.
The different native plant species and small water feature form a woodland habitat garden system that's supportive of many butterfly, songbird and pollinator species, unquestionably making this the hippest CFP location in the Saratoga County region.
Taking advantage of areas with shade to create woodland gardens is a wonderful, pro-environment decision. Intentionally planting large trees to create shade areas for new woodland gardens is a beautiful decision that will increase the neighborhood's biodiversity and ecosystem services well into the future. Shade gardens are a treasure trove of ecological productivity, and they improve a home's value and relaxation quotient.
When a new shade garden in Clifton Park (or shaded/woodland garden anywhere in the world, really) is planted under the canopy of Black Walnut trees, this creates some unique challenges. Black Walnuts create a juglone soil condition. Juglone soil is toxic and intolerable for many understory native plants. In fact, juglone soil is intolerable for many, many species of plants whether they are native or non-native. Provenance is not discriminated for. We have enjoyed learning how to succeed with the obstacles juglone native plant garden design/build projects present. The learning curve was ridiculous. Black Walnuts really change the nature of a property's soil. Understanding how to maneuver well within the framework of a juglone site takes research and experience. A Black Walnut canopied woodland garden is a specialty garden. Landscaping such a site is not for an amateur garden designer; a professional is needed for these challenging conditions. Or an amateur or hobby-ist who is willing to do research and self-education.
Successful creation of a juglone shade garden boils down to selecting native plants that can endure the Black Walnut (or other juglone creating species) poisons. Adding high quality compost to topdress the soil helps a little. Strategically selecting plants that are juglone tolerant is the best plan to win the war against juglone poisoned soil. For more information about successful juglone gardening, see our (to be linked) ebook about this subject.