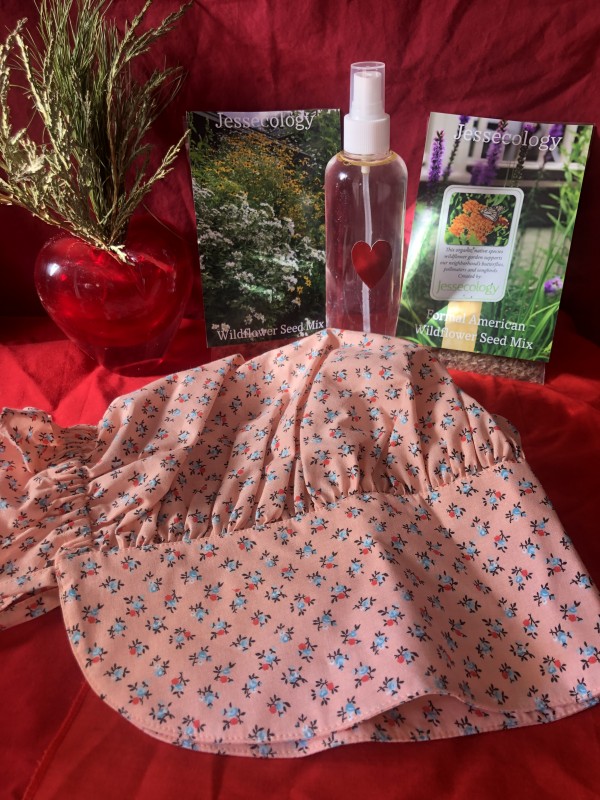 Eco-gift Bundle.
Support our eco-system and delight your loved ones with our beautiful holiday bundle. Limited availability and on sale with a 10% discount through July 4: 7/4/23. Eco-gift for gardeners' bundle includes wildflower seeds, sunbonnet and an essential oil face spray.
Fyodor Dostoevsky famously stated that, "Beauty will save the world."
We're not entirely sure what he meant when he said that in his book, "the Idiot." But that mystery of beauty, and trying to figure it out… It might hold the answers we're searching for.
Sharing gifts is a time to share beauty with the people we love.
Eco-gift giving supports every part of the local ecosystem. The wildflower seeds build our habitat's restoration process.
Included: 2 half ounces of wildflower seeds: Pollinator Garden Mix, Monarch Garden Mix, Wildflower Lawn Mix or American Formal Garden Mix. Please pick two! It's a lot of seeds. An ounce of wildflower seed can fill a big, prepared garden space. If the soil is free of weeds and loose, then the native flowers will fill the vacuum quickly.
Sunbonnet color will be a surprise.
There are 3 themes available for the essential oil face spray: "Passion," "Relax," or "Energy." We use distilled water and the highest quality oils. Let us know in the purchase comments which blend is your choice.