Habitat Restoration and Native Plant Landscaping and Garden Design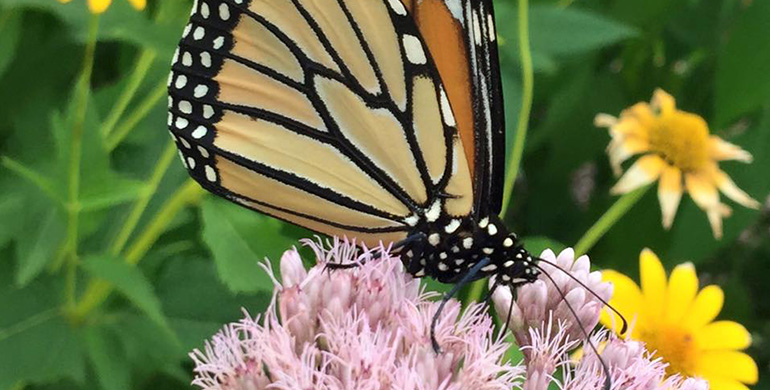 Habitat Restoration and Native Plant Landscaping and Garden Design
The backbone of habitat restoration is the use of plant material indigenous to a given region coupled with an absence of harmful chemicals. Most traditional landscaping uses mostly exotic (or "introduced") plant species, which automatically creates a high maintenance system. The exotic/introduced plants need pampering with fertilizers, other chemicals and irrigation.
All Jessecology landscape design projects and gardens are exclusively sourced with plant species native to New York state, which naturally make inroads for habitat restoration and easily thrive without chemical inputs or irrigation. We specialize in habitat regeneration landscaping projects like butterfly habitat gardens, hummingbird and songbird habitat garden systems, pollinator gardens and rain gardens for storm water mitigation. Our habitat restoration landscapes and gardens consist of native perennial plants, native tree species, native shrubs and native ornamental grasses.
Habitat restoration landscaping is the way forward. When President Teddy Roosevelt established our country's amazing national park system, it had an unexpected consequence. Modern day Americans have been conditioned to perceive nature as something, "out there," and "separate from me." This is most especially true in metropolitan/urban regions. However, most other places in the world don't have this problem. In Europe, the people see themselves as they really are: intrinsically a part of nature. Here in America we have differentiated ourselves from nature rather completely. Habitat restoration can heal the land of course, and at the same time it can heal our fragmented relationship with the land. If you are a property owner with a postage stamp sized yard, when you step outside onto the postage stamp, you are in nature. If we realize what we have, we will learn to cherish it. This natural style of landscaping allows us to create a national park quality space right at home. A "Homegrown National Park," if you will.
Interested in getting on our list for a site evaluation/project estimate consultation? The best way to request a consultation is to fill out our customer intake form: Jessecology.com/consultation.