Eco-Friendly Landscaping + Organic Garden Design

Our vision as an eco-friendly/sustainable landscape studio is to create naturally beautiful and stress-free landscaping with an ecological approach that co-operates with nature. We specialize in low maintenance landscaping and gardens that extend the natural habitat surrounding the property and feature native plant species.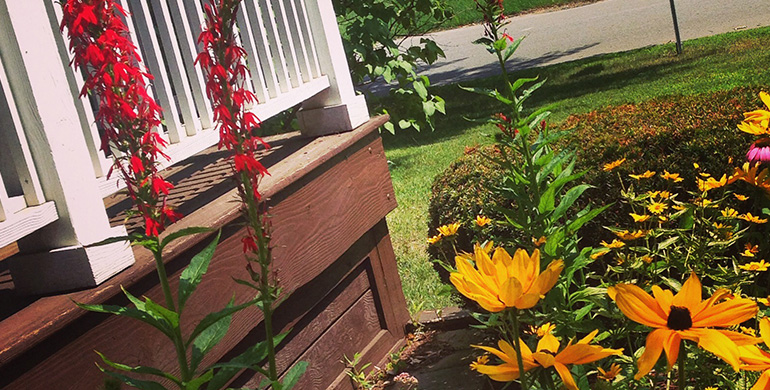 In the near future, the responsibility to save the environment will fall to the landscape designers, landscape architects, engineers and landscape technicians. Moreover, it's likely happening already. Indeed, the action of manipulating the soil to add and subtract plants is a huge responsibility with far reaching consequences. Thoughtful plant choices and a respectful land ethic will literally heal the land. It's possible, we can do it together.
Our company's eco-friendly landscaping approach empowers homeowners, business owners and public land managers to invest in a bright ecological future for the land they've been tasked to care for. Our organic garden design methods with native plants, including native species perennials, native trees, native shrubs and native grasses build a regional plant bank. Altogether, this accumulates natural, physical dividends as monumental as wildlife extinction reversals. Investing in our community's physical future is priceless. The improved happiness quotient in human neighborhoods after an eco-friendly landscape installation is an immediate, and precious return on investment.
Who is Jessecology
Undeniably, Jessecology is a niche company. Therefore, each unique project our teams produce uses ecological insight and thoughtful consideration of a site's best use. Certainly, we pay respectful attention to the lifestyles, needs and preferences of the people we work with. Additionally, we also observe the natural features of the land and let that inform our design theory. Eco-friendly landscaping and organic garden design projects can include butterfly habitat gardens, songbird support gardens, pollinator gardens, large/mature native tree planting projects, rain gardens for storm water management and hummingbird gardens. Using native plants and organic gardening methods allows us to tackle sites that present a challenge to other landscape planners. If you have clay soil, sandy soil, a Black Walnut tree turning your soil juglone or a shady site: there's a beautiful native plant garden solution available. Of course, it would go without saying that a sunny site is a perfect fit for eco-friendly landscaping! And yet, the possibilities for a shade garden site (or a woodland garden) with native plants are endless.
Our company's core principles are:
-A love of beauty.
-Commitment to plant literacy and ecology education.
-A deep respect for the communities we work in, and admiration/respect for the wonderful people we meet. Thank you for trusting us with the care of your microclimate.
One of our greatest joys is to support the small businesses in and surrounding the neighborhoods where we work. Local culture is everything, and small businesses survive by supporting each other. We are always ready to discuss collaborations.