Black Cohosh (Cimicifuga racemosa)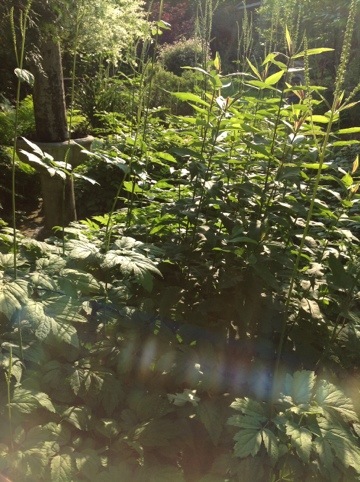 Black Cohosh (Cimicifuga racemosa, aka Actaea racemosa) is one of the finest native woodland plants. It's also beloved as a woman's herb. It graces the shade garden and part sun gardens and woodlands around the US.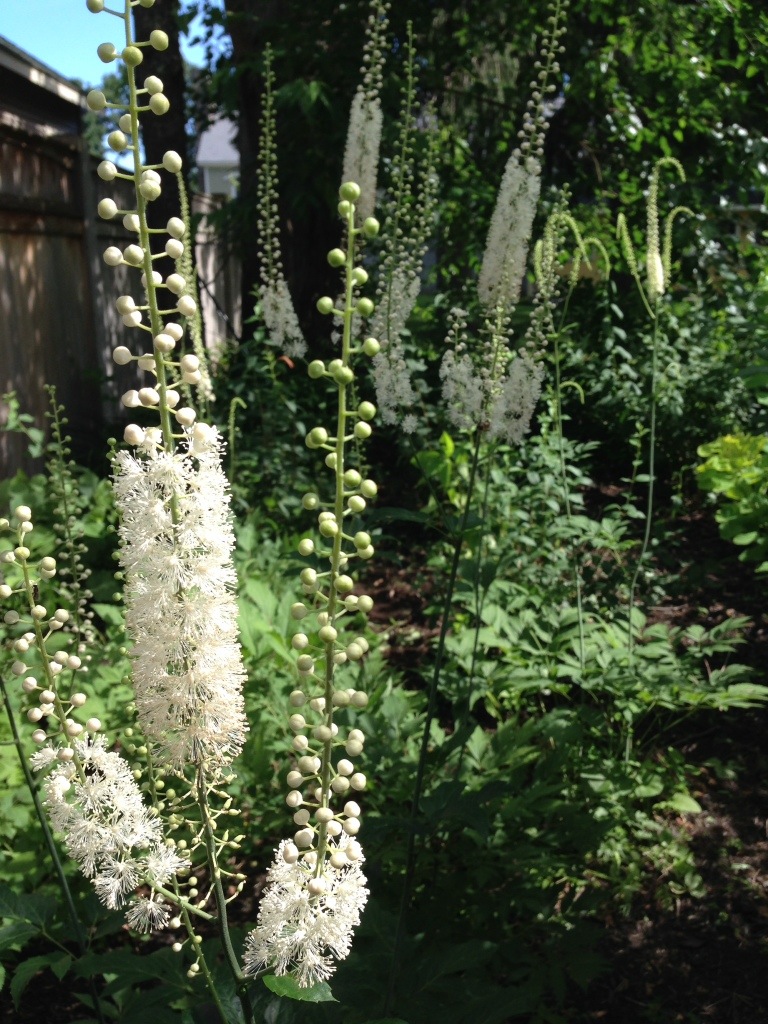 Black Cohosh has many nicknames, i.e., Bugbane or Black Snakeroot. There is also a plant called Blue Cohosh (Caulophyllum thalictroides) but the plants are not related. White Baneberry, also called "Doll's Eyes" (Actaea pachypoda) is a close relative, though. Before these two plants flower, they are indistinguishable.
Black Cohosh can grow in a decent amount of sun and it's one of the rare tall shade garden plants. Many native plants found in woodland gardens are petite, or at best medium height. Black Snakeroot is large, maxing out around 7 feet height sometimes! It is graceful and elegant. Similar in habit to Goatsbeard (Aruncus dioicus), which also graces the shade gardens and rain gardens.
A tall plant for the shade garden is an outlier, a real treat. Besides our beloved Black Snakeroot and Goatsbeard, there is Cutleaf Coneflower (Rudbeckia laciniata). Cutleaf Coneflower can also grow in full sun without a problem but seems happy in at least part shade. There's Ostrich Fern (Matteucia struthiopteris), which can grow to a proud height of 7 feet. Other tall ferns exist, like Royal Fern, Cinnamon Fern and Lady Fern. In the sun Heart Leaf Aster (aka Bluewood Aster or Symphotrichum cordifolium) can grow very tall! 5, even 6 feet. And yet, Heart Leaf Aster is most often found in the shade where it stays mostly petite.
If you would like to hire our design/build landscape team to develop a shade garden, we'd love to meet you! Fill out our consultation request form and we'll be in touch soon.