Monarch Butterfly Garden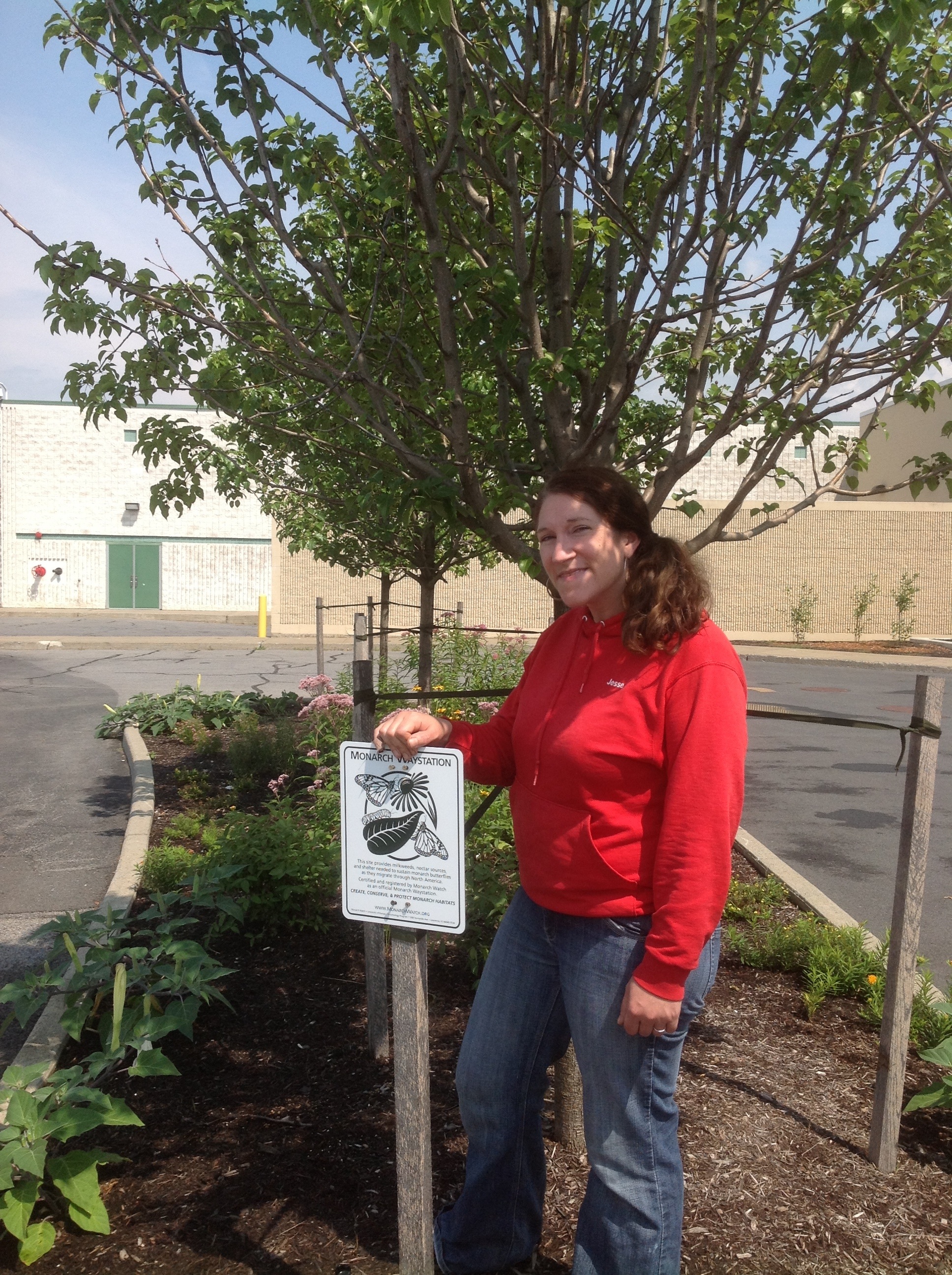 This spring we designed and constructed a new Monarch Butterfly Garden in Saratoga Springs, NY. A pollinator garden was also created elsewhere at the same site to encourage and support the vegetable gardens. After planting the pollinator gardens, we realized that the site could now easily qualify for Monarch butterfly waystation status with Monarch Watch. Though it hadn't been premeditated, we had 100% of the national organization Monarch Watch's requirements for habitat waystations for breeding and migration, including 3 types of Milkweeds that can serve as Monarch host plant, many other types of native plant species to provide nectar for adult butterflies, native trees and shrubs that can offer shelter for butterflies to hide and form cocoons and chrysalis, and an absence of pesticide use.  The site is now a certified Monarch waystation site, registered with Monarch Watch.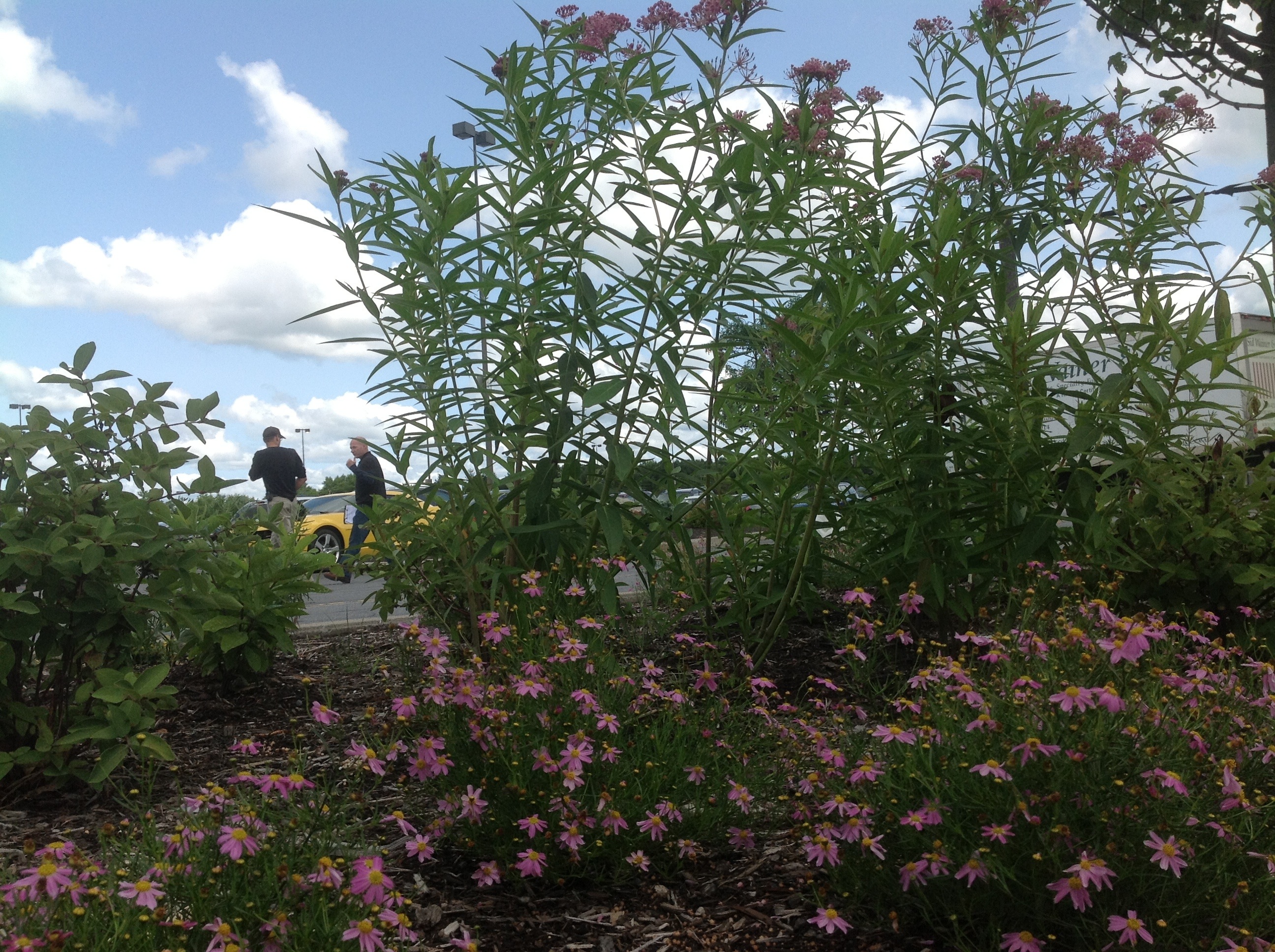 Once the habitat gardens have been established for a couple years, there's great potential for the site to be very productive as a wildlife corridor. This far, I've observed an increase in dragonflies and docile, native bees in the landscaping. All the years of asphalt jungle-land may have the neighborhood butterflies a little shy about visiting; this kind of Monarch waystation in a parking lot's landscaping is rare and the butterflies need a little time to discover the rich habitat treasure that's here. The property is surrounded by forest on the east and south, and there's ecologically rich wetlands right on the property at the southwest edge. The Wilton Wildlife Preserve is about a mile east on Route 50, and the Bog Meadow Brook Nature Preserve is about the same distance on Route 29, southeast of the mall. Downtown Saratoga Springs is loaded with parks and wild spaces, including Congress Park and Saratoga Spa Park. All these preserves nicely form a patchwork quilt of safe space for wildlife habitat, known in ecology as a "wildlife corridor," and now the extremely commercial site has been transformed into another piece of the ecosystem quilt. If more businesses start planting Monarch butterfly gardens, the Monarch butterfly population may just make a comeback in a few years.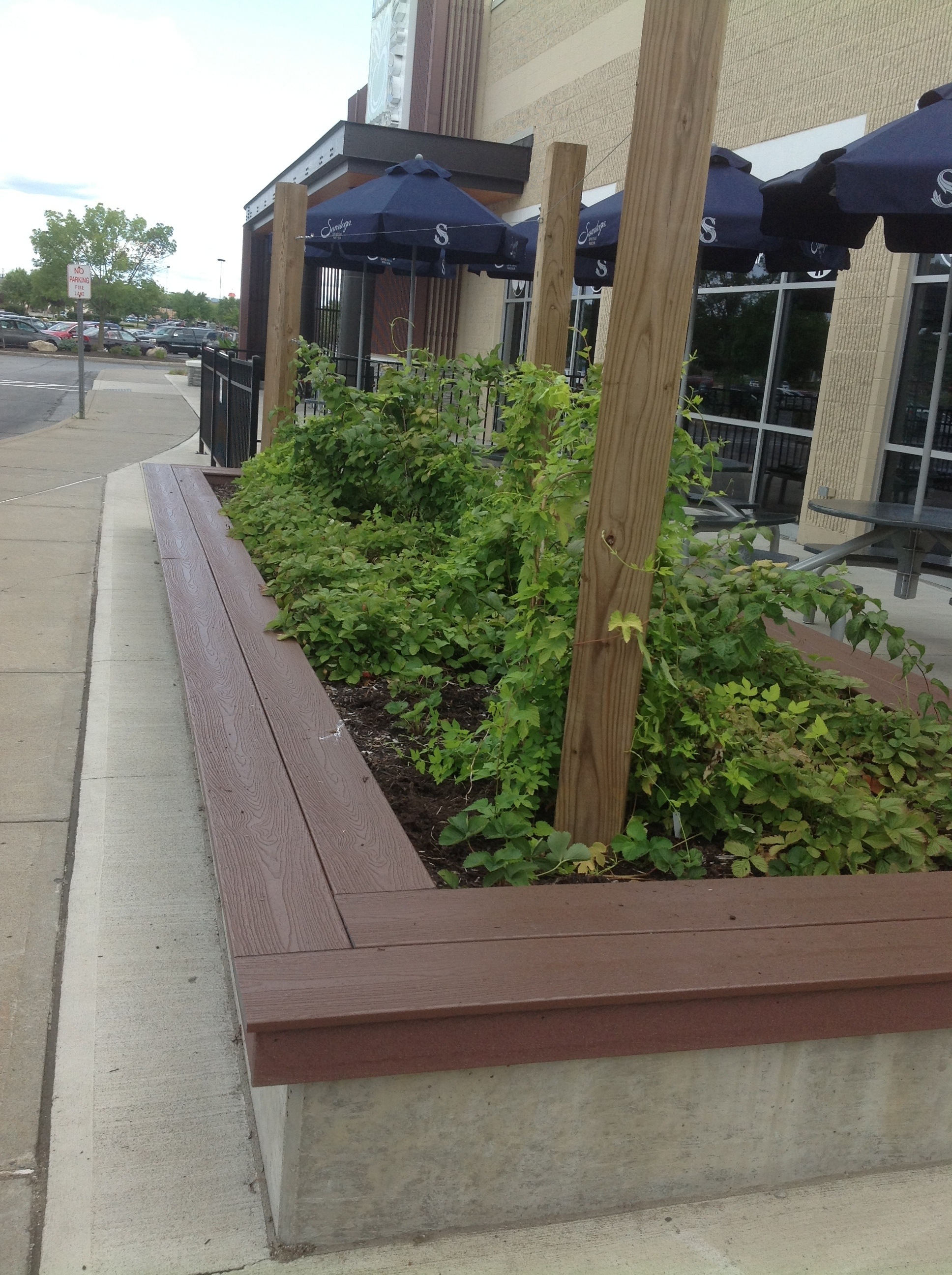 Some of the plants are both, edible and ecologically functional, like these Hops vines. Hops (Humulus lupulus) is a NY native plant that is of course used in the beer making process. Hops vines are also an important butterfly host plant for many of our native butterfly species, including the Question Mark butterfly and the Eastern Comma. This raised bed also has Strawberries, Kiwi, Raspberries.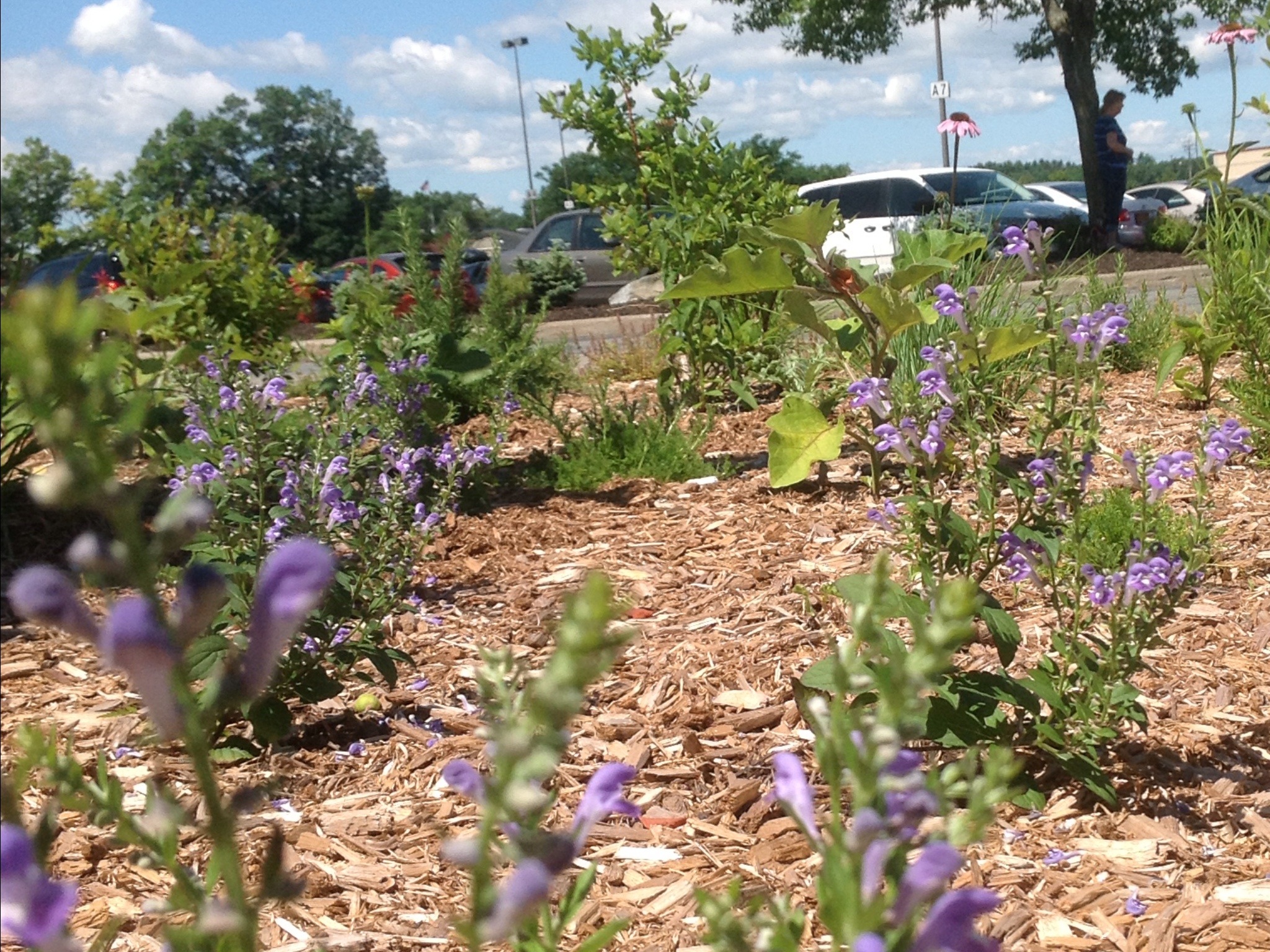 Skullcap (Scutellaria incana) is a NY native species that's used medicinally and has a very long, and very beautiful bloom cycle. We use many different kinds of native plants to try to ensure that something is always blooming for the butterflies to have access to precious nectar….and also because it's nice to have something flowering all the time in any landscaping or garden area. In the Monarch waystation island bed, the Echinacea purpurea (Purple Coneflower), Monarda spp. (Red and White Beebalm), Coreopsis rosea (native Pink Coreopsis), Eupatorium maculata (Joe Pye Weed), Heliopsis helianthoides (Ox-Eye Sunflower), Asclepias incarnata (Swamp Milkweed) and Asclepias tuberosa (Orange Butterflyweed) have been blooming for weeks or even months; when they cycle through there will still be fresh color with the late blooming Vernonia noveboracensis (NY Ironweed), Eupatorium hyssopfolium (Hyssop-leaf Boneset), Helianthus tuberosum (Jerusalem Artichoke) and Arnoglossum atriplicifolium (Pale Indian Plantain).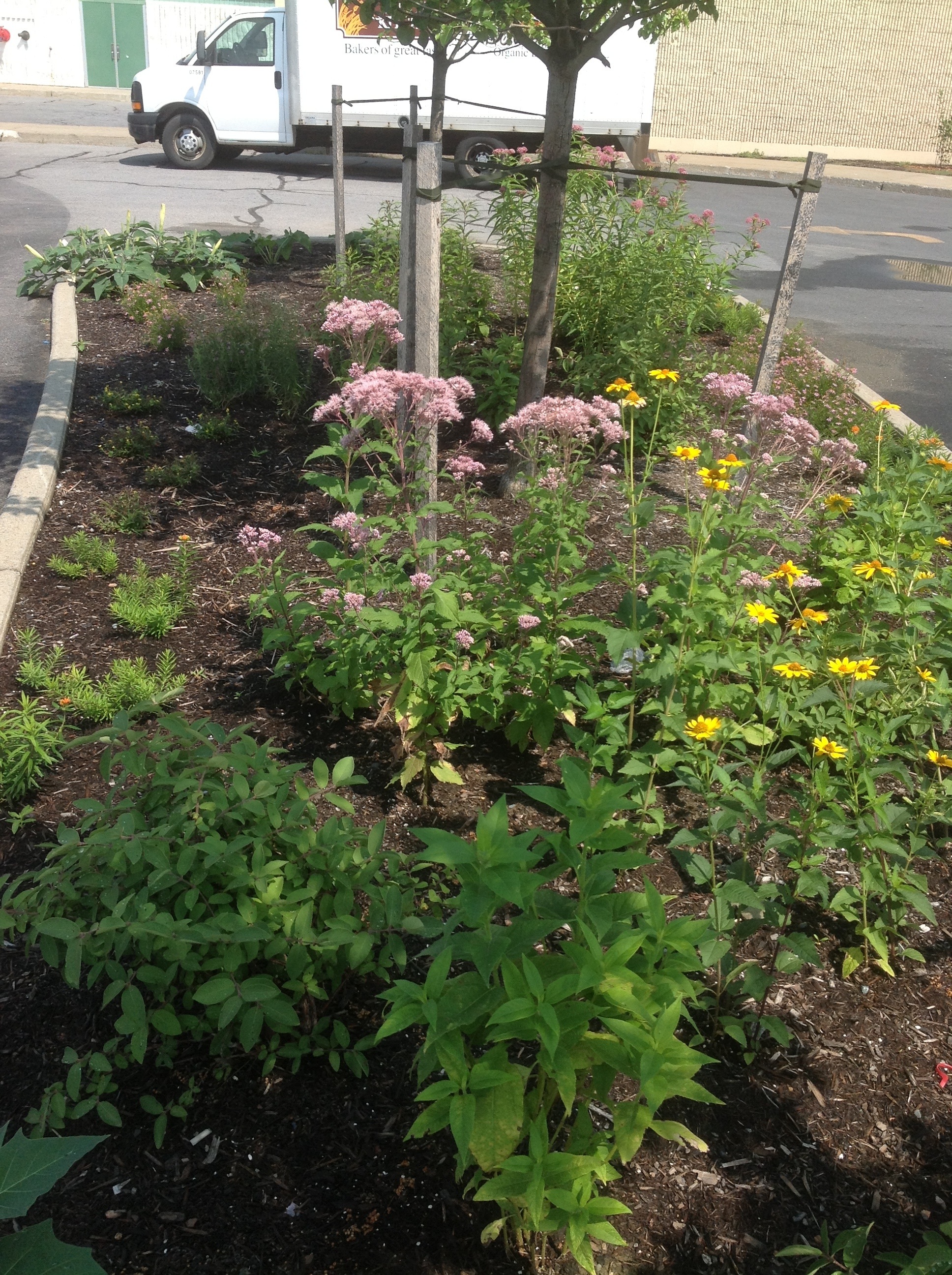 This Monarch butterfly garden was a dream project. A beautiful, colorful, low maintenance and ecologically productive commercial site.
Would you like us to design + build a Monarch Butterfly Garden at your home or business? Get on our consultation waitlist now.