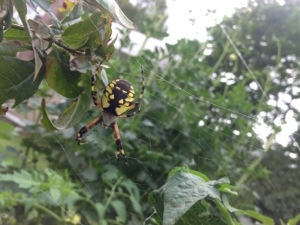 This lovely but scary spider sits square in the middle of our organic container edible garden in Lake George, NY. We've watched him (her?) get noticeably plumper over the summer, he's (she's) a wonderful ecological neighbor. The spider eats any garden pests who might dare visit, and our tomatoes, peppers, beans, lettuce, potatoes, cherry tomatoes, cucumbers, zucchini, melons, brocoli, kale, India spinach, organic herbs and flowers for pollinators grow without pest insect interuption. Interplanting the vegetables with flowers and herbs is companion planting 101, a pre-meditated ecological garden design strategy to optimize predator and pollinator insects visitation to the space, and therefore reduce any need for chemical control. Preventing issues before they start is the smartest solution, every time.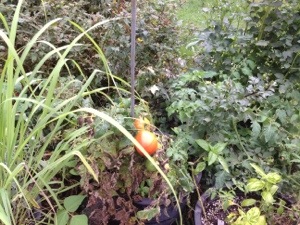 Can you see the spider in this photo?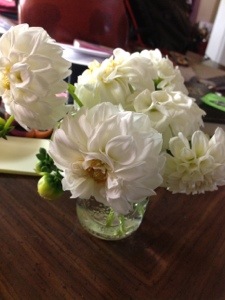 Dahlias are fun to include in the edible garden space because pollinators like them, and they make great cut flowers. They respond to being cut by flowering prolifically, which is delightful for children.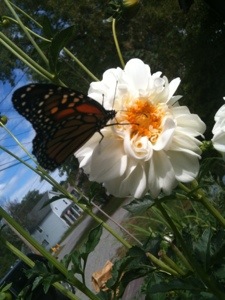 Along with honeybees and paperwasps, this Monarch butterfly has been a frequent visitor to the Dahlias. You can really see the probiscus collecting nectar here. It's empowering to see natural processes of co-operation in gardens in Saratoga, Lake George and the capital region, ecological gardening requires paying attention to systems and quiet networks and learning the essence of our local ecosystem. Success in growing delicious organic local food is one fantastic motivation to begin organic gardening, understanding our relationship to our surroundings is an often unexpected side result, and one that should not be missed.
Author's side note. It's easy to blow the mind of an overworked, under sun-exposed lawyer friend I learned this week, for you organic gardeners… Just bring a couple organic, heirloom ripe tomatoes, Celtic sea salt and fresh picked, fresh brewed organic herbal ice tea to the meeting. (You know who you are.)